The ultimate low disturbance subsoiler
A flexible subsoiler perfect for improving aeration and drainage.
• High finish • Low horsepower
Take care of your biggest asset – the soil
WHY CHOOSE THE ERTH ENGINEERING PANBUSTER?
GROW MORE CROPS
A well aerated soil with good root structure can significantly increase crop yield potential. It stands to reason that you cannot get good plant growth above ground if there is not a good root structure below the ground.
EXTEND YOUR GROWING SEASON
A well aerated soil warms up quicker in the Spring and cools down more slowly in the Autumn.
IMPROVE DRAINAGE
Improved aeration will result in improved drainage. Increased pore space allows quicker perforation of moisture into the soil and aids speed of water movement. Water drains better in the wet and there is more moisture available when dry.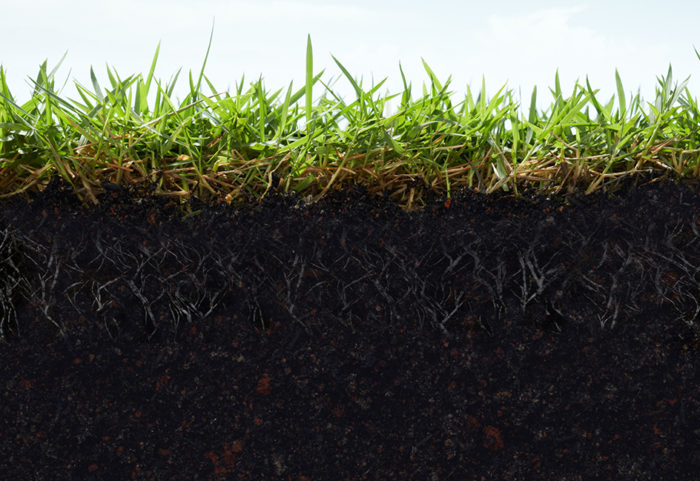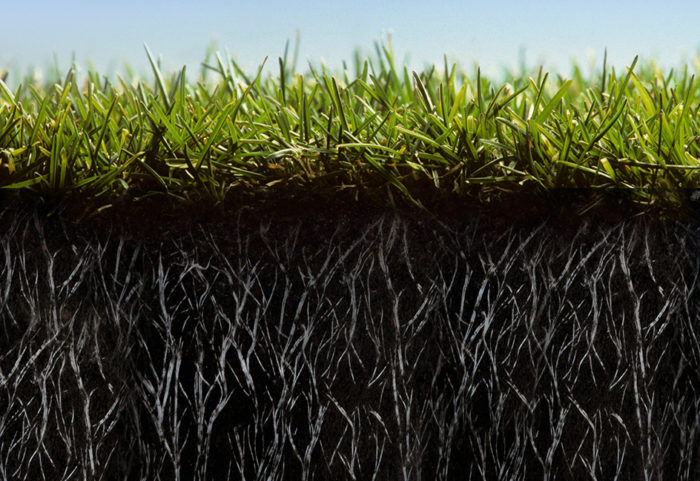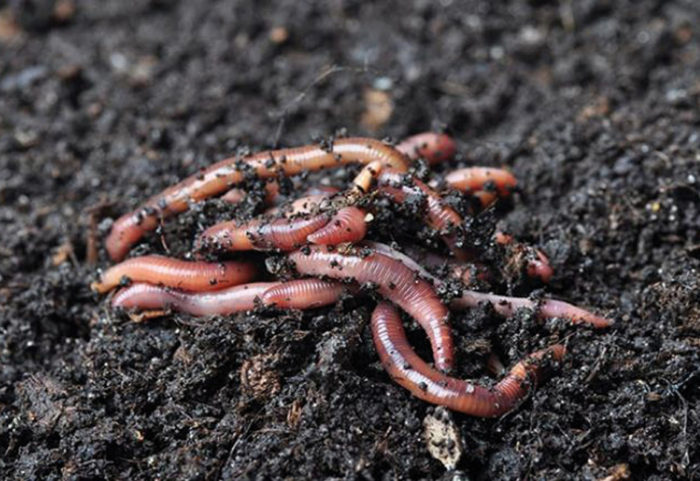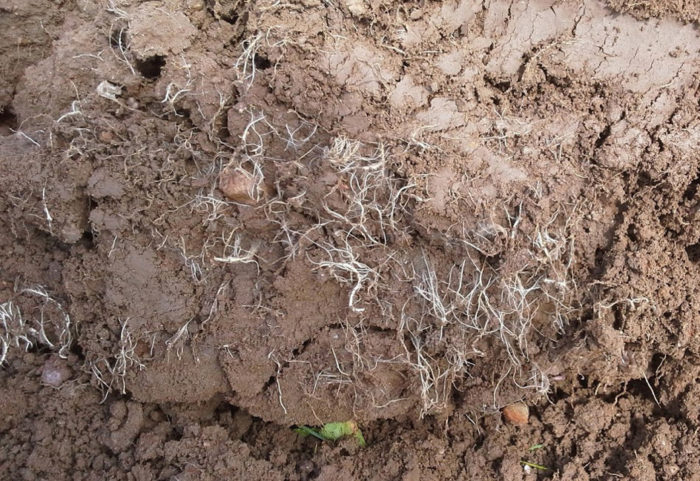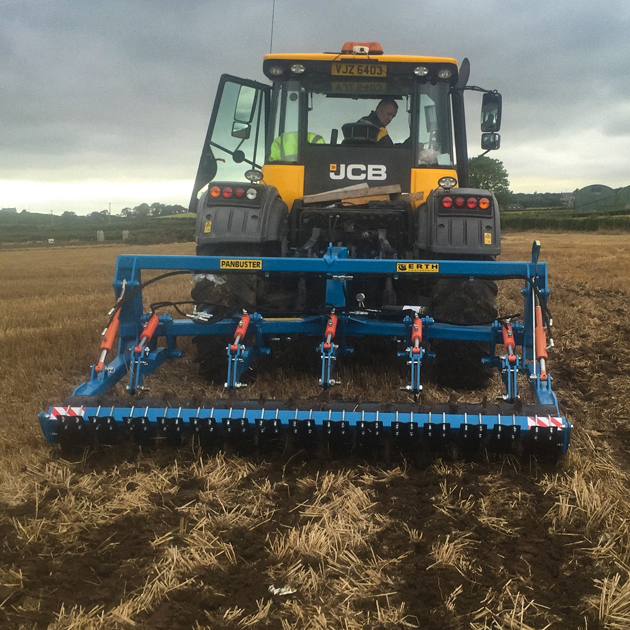 A well aerated and drained soil with good structure will maximise root development. Good root development will assist plant production above ground. The use of a suitable subsoiler can increase production and profitability for any cropping regime.
The technology developed on our grass subsoiler provides the ultimate low disturbance leg assembly for those looking for minimal soil disruption at the surface whilst achieving good soil movement in lower profiles below the surface.
The best auto-reset on the market with three safety functions; high lift, side swing and shear-bolt.
The only auto-reset on the market using solid legs (50mm) with high grade pull points.
Hydraulic system incorporating an accumulator with a secondary bladder accumulator for a fully enclosed auto-reset system.
Hydraulic reset allows break-back pressure to be varied to suit conditions.
Reset trips up and back to minimise stress and prevent stones rising to the surface.
Large pins and bushes on load bearing areas used throughout the machine to target potential wear.
Hydraulically adjustable rear roller c/w indicator gives positive depth control, improved traction and levels the surface, enabling targeting of problem areas from the cab.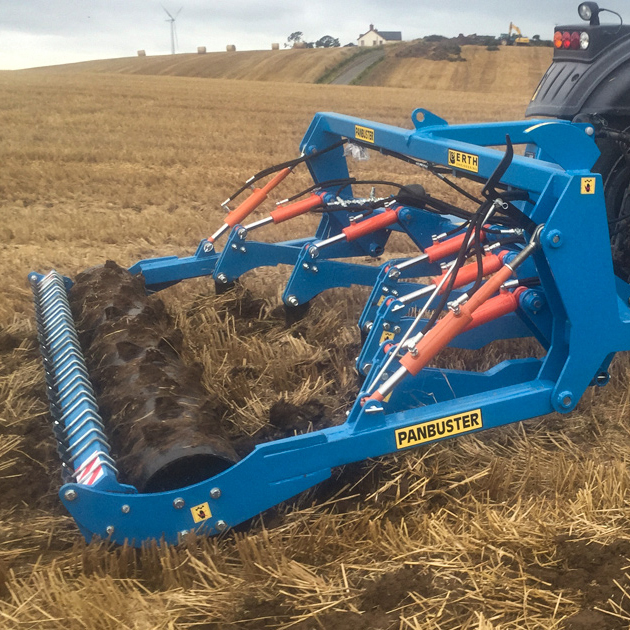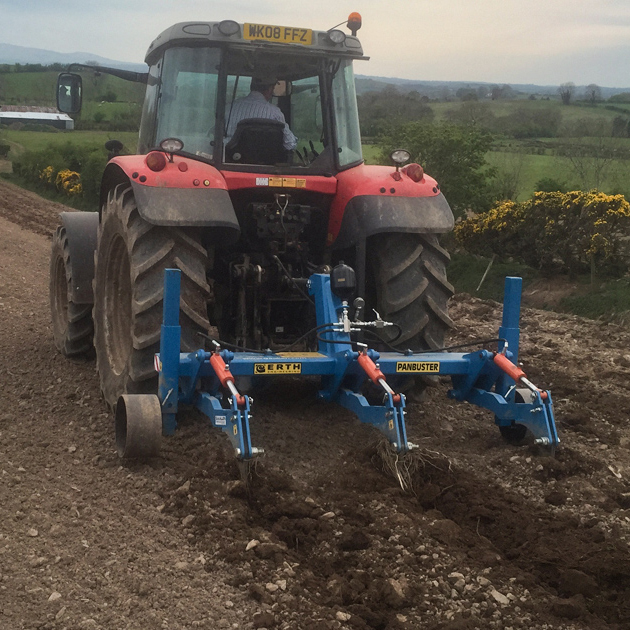 3-leg Eco (depth wheels)
3-leg
5-leg V-form and straight frame
8-leg folding
10-leg folding
Conventional arable with 3-piece wing, shin and point. This combination is superior than 1-piece units as it allows the parts to be worn out more efficiently. Points and shins are held on by a single roll pin and the wing by a single bolt. Legs are hard faced to prevent soil flow producing taper wear at the rear.
Hook and pin grass leg. The shin is hooked in at the top and the point holds the whole assembly by one roll pin. The shin is reversible and slightly wider than the leg to minimise leg wear. This is the ultimate low disturbance, low horsepower leg assembly.
Choice of packers – toothed packer, rubber roller packer or wedge packer.
Choice of drill fitting kits for small seed units.
Lighting kit.
Special build variations available for oilseed rape.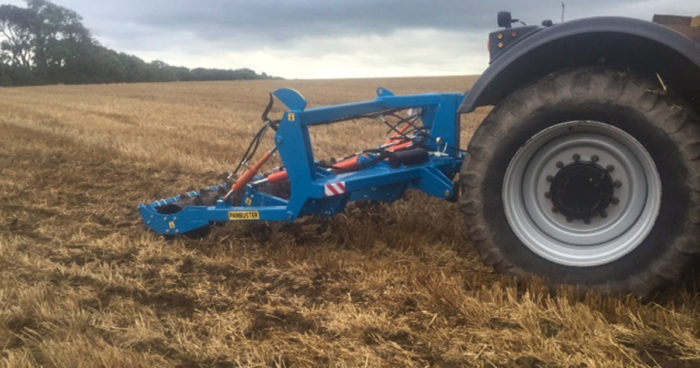 OPTION: 5 Leg V Frame can be fitted with low disturbance legs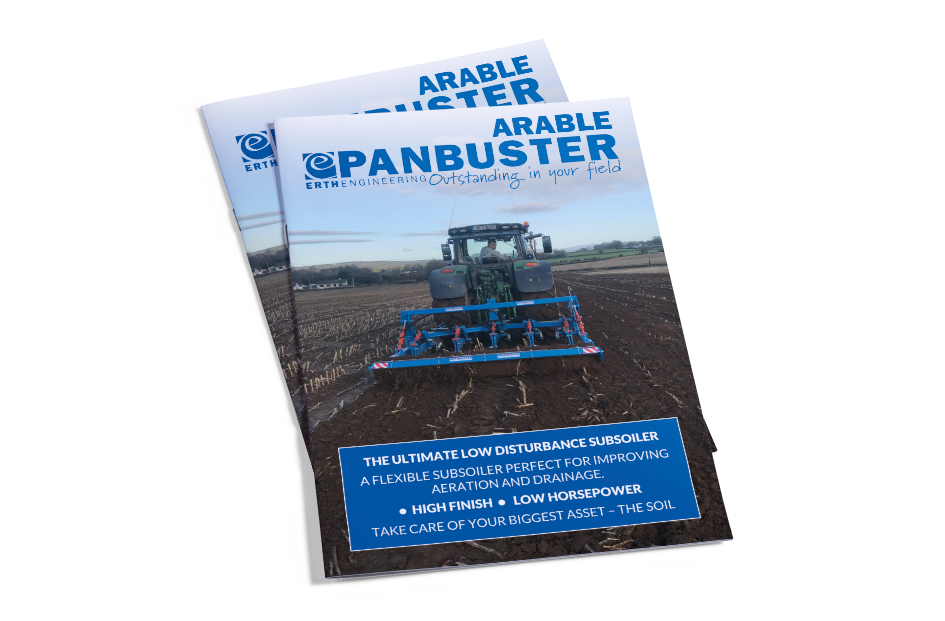 Download Arable Panbuster Brochure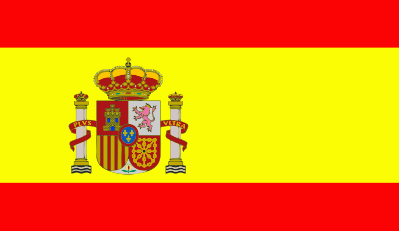 Spanish Brochure (available soon)

Dutch Brochure (available soon)

Polish Brochure (available soon)